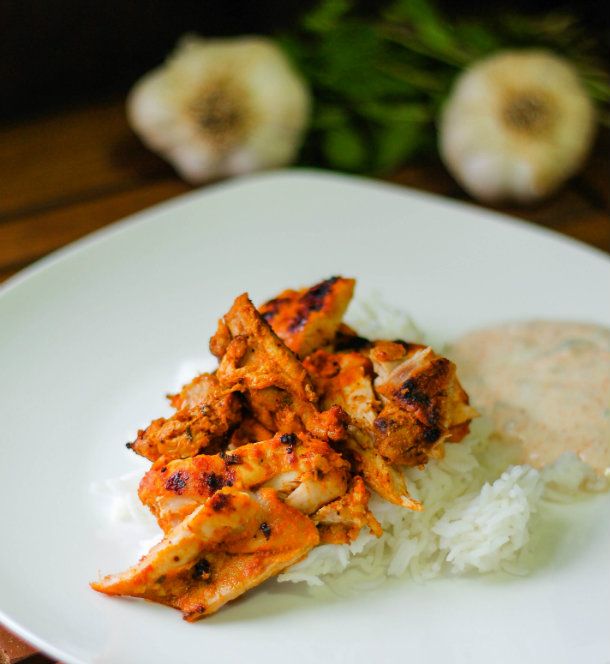 As I sit here writing this I am debating whether or not I am motivated to bake cookies. It has been a long day and I'm exhausted, but I also have a horrible sweet tooth. I would love it if I could eat all the snacks at the grocery store, but since I can't eat gluten it severely limits my snacking options. There are many days like today when I would love a snack, but lack the motivation to actually make anything. It doesn't help that my 6-year-old informed me today that he was tired of gluten free snacks. I agree with him that many gluten free snacks just taste like a not exactly right counterpart to the more delicious gluten equivalent. However, in order to combat the difficulties that gluten free living can bring about (one of the worst is eating out, I love steak, but when it is always the only thing I can eat it gets a little old), I make sure that the meals that I cook are satisfying and filling. Last week I tried a new recipe for Spiced Chicken Kebabs with Garlic Yogurt Sauce from issue Number 153 of
Saveur
magazine.
This recipe has 12 ingredients. It takes 2 and a half hours of total time, 30 minutes of which is active and makes 4 servings. As you can see from the photo I made a number of modifications to this recipe. First I didn't want to buy new skewers to grill the kebabs. I know that sounds odd, but I try to save money wherever I can and so I chose to change the recipe. Instead of cutting the chicken thighs I kept them whole and then when they were finished grilling I sliced them into pieces. Additionally, I used an indoor grill on the sear cycle to mimic a charcoal grill without freezing outside during the winter. I made one other major modification. I strongly believe in using the ingredients that I can find locally. I'm not against ordering things on the Internet, but I also try to be as frugal as possible. With this in mind instead of searching online and paying a large amount to purchase Aleppo Pepper I searched and found that I could substitute 4 parts paprika to one part cayenne. I did the math to make the proper adjustments and used the substituted spices. I followed the remainder of the recipe as written.
Even with all my modifications this recipe turned out very well. The flavor of the chicken was delicious and the yogurt sauce was slightly spicy with a great cooling flavor from the mint. I wasn't sure if it would work out since I didn't make the chicken as kebabs, but I was very happy with the end result. The yogurt sauce was also delicious with the leftover roasted chicken I had from another recipe and it is something that I will play around with as a sauce in future recipes.
For the recipe go to
Shish Taouk.