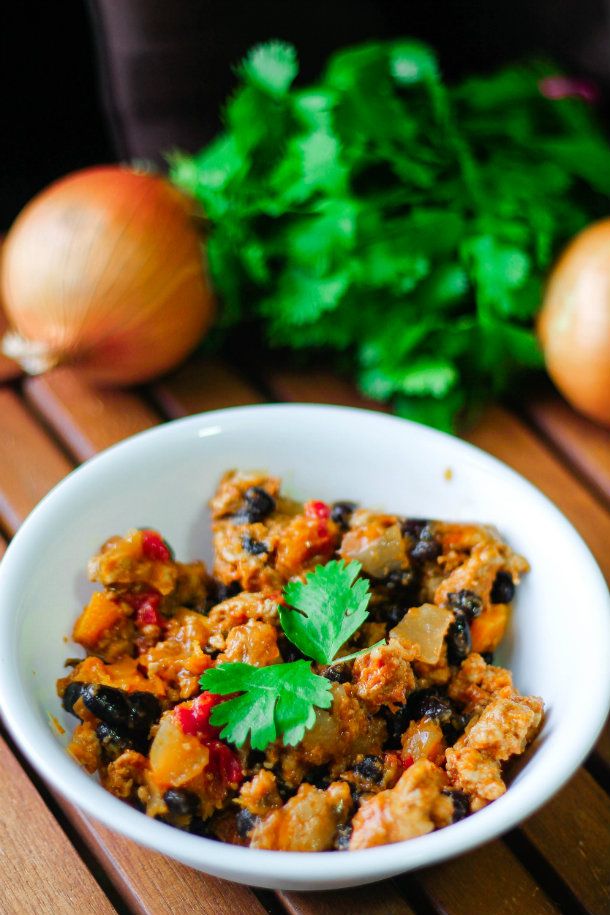 There were very few foods that my dad could cook growing-up. He would make great fried potatoes, bacon and best of all chili. Everything else he burned or didn't even try to make. There was one time that my dad managed to completely burn boxed macaroni. He forgot that the macaroni was cooking and the water went dry. It was not delicious. However, he could make great chili. I never understood how everything else he made was so bad, when his chili was so great. Since my dad made chili so well I never really made chili when I was younger. I did have a great recipe for vegetarian chili, but since I married a big meat eater I haven't made it in years. After a couple years of marriage I decided that I needed to start cooking more chili since it is so hearty and can make multiple meals. Fast forward to ten years of marriage and I cook chili once or twice a month in the winter. It is one of my favorite winter time meals, it is warm and filling. Yesterday I made a new recipe for Turkey, Squash and Black Bean Chili from the January issue of
All You
magazine.
This recipe has 10 ingredients. It takes 34 minutes of total time, all of which is active and makes 4 servings. I did make a few modifications to the recipe. First, I have been making an effort to make everything I can from scratch. For this reason I made my black beans from scratch in the Crock-pot. I also grind my own turkey. It is cheaper and the texture is so much better. I saved the leftover butternut squash to make squash bread and it was delicious. The recipe cooks the chili on low for 10 minutes. I chose to cook the chili on medium for 10 minutes in order for it to fully thicken. Finally, I was out of regular chili powder so I used ancho chili powder instead. I followed the remainder of the recipe as written.
My whole family was really happy with this recipe. Normally I make beef chili since it tends to come out more tender and flavorful. This turkey chili was delicious and my husband even commented about how good it was since he normally doesn't like turkey chili. Do not use low-fat ground turkey. Very low-fat turkey will dry out and not have the same flavor as turkey with higher fat content.
For the recipe go to
Turkey, Squash and Black Bean Chili.