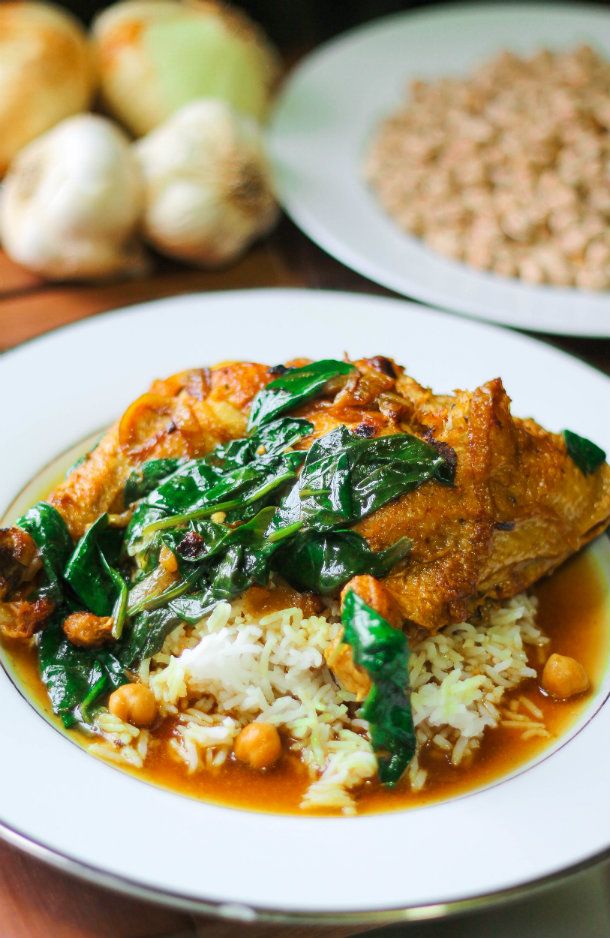 At the grocery store last week I needed to find chicken legs. I looked all over and then found them. In a large scary looking plastic bag. I have no problems buying large amounts of chicken, but this chicken looked like something that I would rather feed my animals than myself. Someone must be buying it, just not me. This experience got me thinking. It seems that the quality of a lot of grocery products has gone down, not up. It used to be that you could go to the store and expect to find quality products, now even if you want to buy something of higher quality it isn't even available. It is a little disconcerting especially given that there are so many problems in the state that I live in, it would be nice if there were healthy, high quality products available to everyone that wanted them. In the end I substituted all-natural chicken thighs, but it would have been nice to have at least had the option to find the product that I wanted. I digress, on to the chicken recipe that used the chicken legs that were no where to be found. Last week I tried a new recipe for Indian Spiced Chicken with Chickpeas and Spinach from the January 2013 issue of
Bon Appetit
magazine.
This recipe has 15 ingredients. It takes 2 hours of total time, an hour of which is active and makes 6 servings. As I stated in the intro I had to substitute chicken thighs for almost all the chicken legs. I had two chicken legs left from a previous recipe (that I was lucky enough to find at the store the one time they seemed to actually have them, never to be seen again). For the remainder of the chicken I used chicken thighs. I found that I had to use more broth than the two cups suggested by the recipe. Two cups just wasn't enough to partially cover the thighs. I left off the cilantro at the end. Honestly my kids aren't fans and I forgot to add it to my serving. I followed the remainder of the recipe as written.
The braise on this chicken turned out very well. I'm not sure that I liked the amount of spinach. I think it needs to be doubled. The sauce was also a little thinner than I prefer as well and if you like spicy foods I would suggest increasing the amount of cayenne. I would also suggest adding a small amount of flour or cornstarch in order that the chickpea sauce has a better consistency. The chicken turned out well and was the best part of the dish, tender and flavorful.
For the recipe go to
Indian Spiced Chicken with Chickpeas and Spinach.