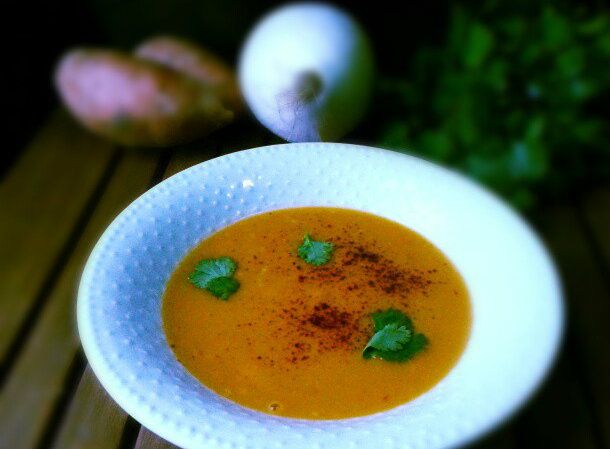 This is soup and stew season in my house. During the fall and winter I make some sort of soup at least once a week. I love soup since it keeps you warm even when the weather is chilly outside. On the other hand I hate the cold. I am not one of those people that loves cold weather. While I find snow beautiful, I enjoy it inside with the heat cranked up. I am also always in huge wool socks and a sweatshirt all fall and winter. My husband always complains that our house is way too hot, to me it's still a little on the cold side. I think I must run on a different body temp than most people since I always seem to be the coldest person in a room. In order to combat my constant cold streak I love making hot meals. Soup is one of my favorite meals since it has so many variations and is so warm and filling. Last night I made a new recipe for Sweet Potato Soup from the December issue of
Southern Living
magazine, which looked simple and flavorful.
This recipe has 11 ingredients. It takes 1 hour of total time, 35 minutes of which is active and makes 8 cups. I had no problems finding any of the ingredients at my local grocery store. Instead of buying store-bought stock I used homemade stock made from the leftover Cornish game hen bones from Thanksgiving. I never salt my stock, but instead salt the recipe. This way I can control the amount of sodium that my family consumes. My local grocery store didn't have straight apple cider, so I bought apple cider and spice juice instead. I used my immersion blender to liquify the soup. I find this method much easier than pouring the soup into a blender and hoping not to get burned. I allowed the soup to cook for an additional 10 minutes after the soup was blended, instead of the 5 minutes suggested by the recipe. I followed the remainder of the recipe as written.
I was surprised by how well this recipe turned out. It is always hard to tell how sweet potato soup recipes will taste. Oftentimes they are bland or lack any type of flavor other than sweet potato. This soup was the exception. The chipotle pepper provided a great deal of flavor and the use of apple cider for the base was delicious. Even my two boys thought this soup was great and they can be hit or miss with soup.
For the recipe go to
Sweet Potato Soup.