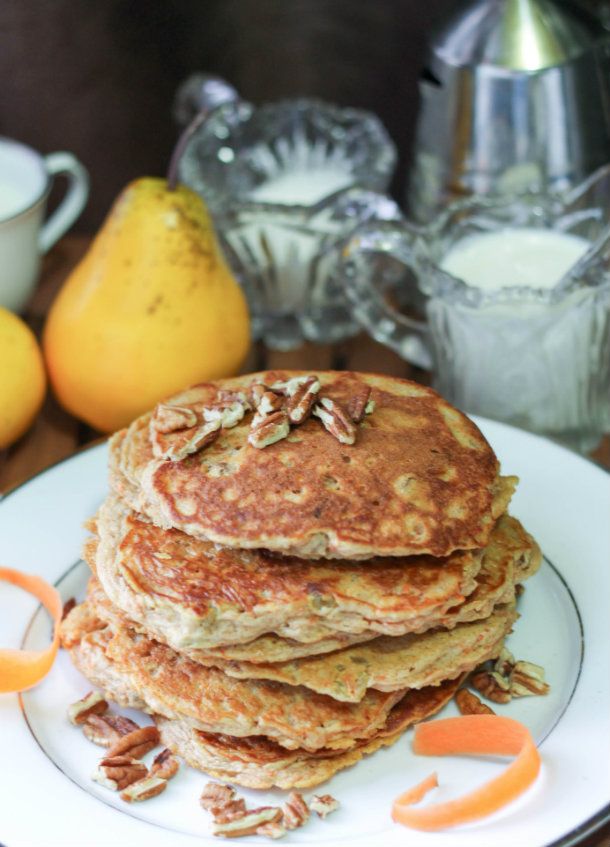 I spent 4 hours last night wrapping presents. Luckily I got everything wrapped and my two kids are now asleep so I can finish up with stockings and then go to sleep. I would love to say that I find the thrill of the pre-holiday prep exciting, but I don't. I'm a perfectionist so I tend to spread myself way too thin. For example last night while wrapping presents I was dying my hair since it was the only time I had. I decided to tip-dye my hair turquoise, which looks great (I know everyone is now dying to know what I look like-blue hair and all :). My house is now quite and this is my favorite time of the holidays, when my kids are in bed and I can relax since everything is done until I cook tomorrow. Everything is quite and perfect. And I'm eating pancakes, no joke, I love them. Last week I tried a new recipe for Carrot Cake Pancakes from the December issue of
Southern Living
magazine, which looked like a great recipe to make gluten-free.
This recipe has 13 ingredients. It takes 50 minutes of total time, 40 minutes of which is active and makes 24 pancakes. Since the original recipe isn't gluten-free I made a number of changes. First I switched out the regular all-purpose flour for gluten-free all-purpose flour. I used low-fat buttermilk instead of full fat since that is the type I normally use in recipes. The recipe states that 1 pound of carrots equals 2 cups. I found that it took me far less than 1 pound of carrots to make 2 cups of shredded. Finally, I chose to top my pancakes with butter and maple syrup instead of the mascarpone cream suggested by the recipe. The cream looked way too rich for a breakfast food. I followed the remainder of the recipe as written.
These were really fun pancakes. My kids liked that they tasted like carrot cake, but were pancakes. I liked that they were delicious with just butter as a topping and could be eaten as a breakfast or a dessert. I found the nuts a little rich, I think if I made the recipe again I would chop them smaller or reduce the amount.
For the recipe go to
Carrot Cake Pancakes.