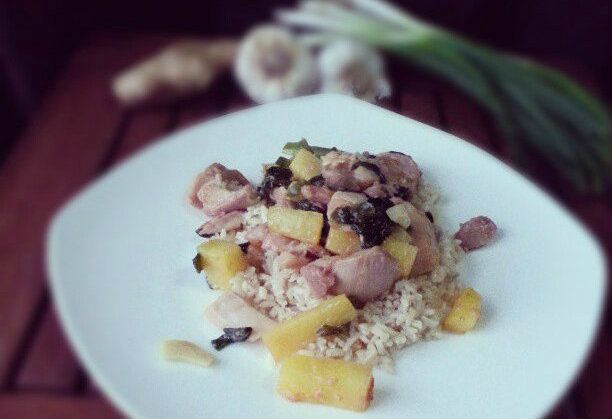 I miss living in an area with a vast number of restaurants. Growing-up there were restaurants on almost every block and pretty much every type of food you can think of was available. Now I live in a college town with tons of pizza and fast food. I am happy that one of the local pizza places now has gluten free pizza, so at least I can eat at one of the places in town. Since our dining out options are limited I have learned to make most dishes from scratch. The great thing is that many dishes are easy to replicate at home and taste just as good if not better than those available at restaurants. One of my favorite dishes to make at home is sweet and sour chicken. It is so much cheaper and you can modify the amount of fat. Last night I tried a new recipe for Stir-Fried Sweet-and-Sour Chicken from
Everyday Food
magazine, which with only 20 minutes of total time looked perfect for a busy weeknight meal.
This recipe has 10 ingredients. It takes 20 minutes of total time, all of which is active and makes 4 servings. I had no problems finding any of the ingredients at my local grocery store. Instead of cutting the ginger into matchsticks I chose to finely grate it. My two boys aren't fans of ginger when it is made into matchsticks so this modification insured that they would actually eat the dish. I did make a few more changes. I chose to use a whole Serrano instead of a half and I used closer to a half of a pineapple instead of a 1/4. Finally, I served the dish over brown rice instead of white since we rarely eat white rice. I followed the remainder of the recipe as written.
My oldest son really enjoyed the pineapple in this dish. I was happy that pineapple is inexpensive currently and the recipe took very little time to prepare. My husband thought the recipe was fine, but was very simple in taste. He would have preferred if the dish had more flavors other than ginger and apricot. At the table my husband and I added crushed red pepper to our servings and this helped to add more dimension to the recipe.
For the recipe go to
Stir-Fried Sweet-and-Sour Chicken
.