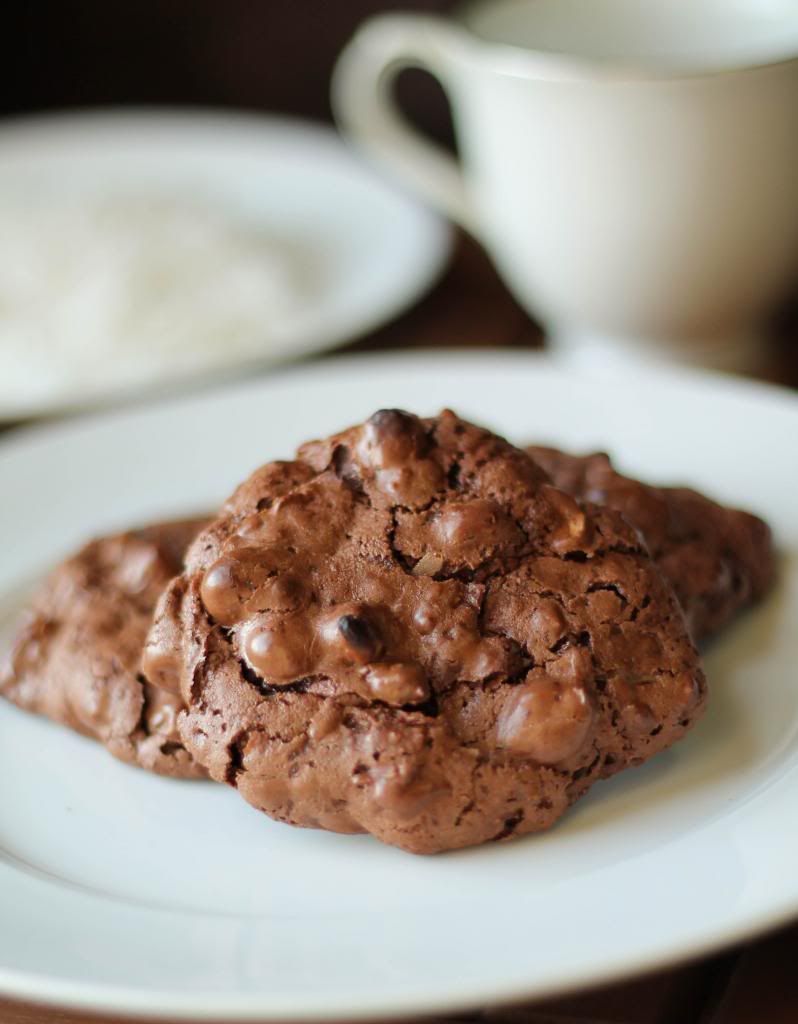 I love chocolate. Not just a little bit, but I literally eat a dark chocolate candy bar every weekend when I go grocery shopping. Since I have such a large sweet tooth I also workout on the treadmill for an hour a day and rarely sit down until the evening rolls around. I don't believe in denying myself the foods that I love, but instead I eat everything in moderation and make reasonable substitutions when available. It helps that I also am now gluten free so I snack a great deal less. The pre-packaged gluten free options are very expensive and honestly most of them are not delicious. I would love to say that I am always motivated to cook and bake from scratch, but I am human and oftentimes lack the desire to go in the kitchen and make myself something to eat. I try to stick with recipes that are easy to make and take little prep and cooking time. Last week I tried a new recipe for Flourless Chocolate-Coconut Drops from
Everyday Food
magazine, which looked like an incredibly easy gluten free snack recipe.
This recipe has 7 ingredients. It takes 30 minutes of total time, 15 minutes of which is active and makes 2 dozen cookies. For whatever reason every store in my area is currently out or no longer stocks dutch process cocoa powder. Due to this fact I used regular cocoa powder. I had no problems finding any of the other ingredients and made no substitutions. It took a bit of mixing to combine the ingredients and my cookies came out perfect so don't worry if you have to stir numerous times to ensure that all the cookies are fully mixed. Finally, watch the cookies in the oven. Mine took exactly 15 minutes to bake and would have burned left in any longer. I followed the remainder of the recipe as written.
These cookies turned out delicious. I like that they don't use flour so they are gluten free without having any aftertaste from using gluten free flour. The texture is crispy on the outside and soft on the inside which is both adult and kid friendly. These cookies would be great for a holiday cookie plate for a friend or family member eating gluten free while still yummy enough to serve at a party for all types of guests.
For the recipe go to
Flourless Chocolate-Coconut Drops.